Oitagawa Dam Build with Trimble Grade Control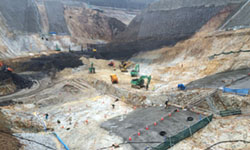 When your city has suffered a significant flood, the development of your reservoirs becomes even more important. This was certainly the case with the Oitagawa Dam, located in Kyushu, the third largest island in Japan. The construction of this new dam requires moving 1.39 million cubic meters of earth, and constructing the dam wall to be 100 meters high and 500 meters wide.
The slope and vertical elevations required for meeting the dam design lead the contractors to investigate Intelligent Construction Technology. With Grade Control Systems, Site Positioning Essentials Kits, a total station and the assistance of their local Trimble dealer the contractors were able to reduce data prep and management to 30 minutes per day. The project also required 90% less staking than traditional methods.