Getting ahead of the game
Staying ahead of the pack and remaining competitive now and into the future was a big motivator for Marino Excavation's owner/operator Grant Marino and his decision to adopt Trimble's Earthworks Grade Control Platform as soon as possible.
So soon, in fact, he is the first to purchase and run an excavator with the platform in Australia.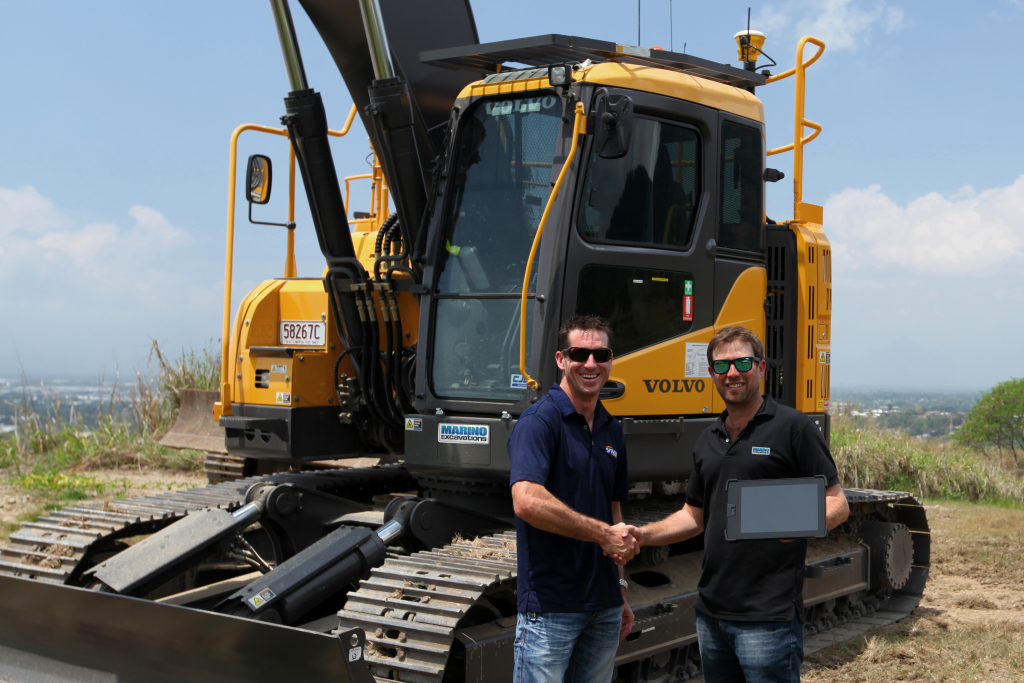 Based in Cairns in Far North Queensland, Marino Excavations has been in business for a decade.
Grant started in quarrying work before branching out and diversifying into civil works.
The business now has three operators including Grant. Last year he purchased a new Volvo ECR235CL excavator and added Trimble's GCS900 grade control.
While he was more than happy with the platform, he felt there was more that could be done with this kind of technology.
Trimble was thinking the same thing … and the Earthworks platform is the result.
"Before I moved into excavation I had worked in film and television – in fact I have a Diploma in Multimedia – and in particular 3D animation," Grant said.
"I knew technology was moving rapidly and that it could be translated into the kind of work I had moved into … and that Trimble were moving that way.
"I had a good relationship with SITECH's North Queensland Account Manager, Michael Newcombe, and I was pretty persistent with him about getting my hands on Earthworks as soon as possible.
"I purchased another ECR235CL and wanted Earthworks on board it."
That happened in September and, while it's early days, Grant is already impressed with the leap forward in control and features of Earthworks.
"Already I am finding it more user friendly than the previous platform," he said.
"Because it is an Android platform it is immediately more adaptable. And Trimble plans to release updates about every three months so its going to keep on improving. That's very appealing for me.
"I can see it will save us time and therefore money in many ways or can pass on the savings if working for a contractor."
Grant said a number of features of Earthworks had added up to make it the platform he wanted, including:
The operator seeing the design in a 3D space, with the ability to manipulate and inspect it so they see what it will look like before it is created;
Ability to cut to the correct grade the first time with no grade checkers required;
The freeing up of surveyors as they aren't needed for continual mark outs or checking of grades, etc, allowing them to work on other tasks while the machine keeps operating;
Big time savings in transferring files to and from the machine on-site or back at the office via the internet. The latest design can be sent to the machine quickly from the office via the internet compared to someone transporting a USB stick to the machine on site. This means the operator can be working on the latest design as soon as it is released.
Customisation in 2D so you can add as you go if need be, such as adding a drain.
And that SITECH 'go above and beyond to make sure the system is running the best it can'.
"The earthmoving industry is a very competitive market therefore focusing on what clients want is essential, which is to get the job done quickly and efficiently," Grant said.
"That's why I have chosen to use a leading brand such as Trimble and the latest technology Trimble Earthworks.
"I am eager to see what's next in grade control systems especially with excavator automation that Trimble Earthworks feature in certain models."
Find out more about Trimble Earthworks Grade Control Platform at sitechcs.com