AccuGrade Cross Slope is a grade control system designed to control surface cross slope. Machine mounted sensors are used to calculate necessary blade slope positioning to achieve desired cross slope of the surface. The system makes automatic adjustments to the left or right lift cylinder, typically performed by the operator. The in-cab display delivers all of the AccuGrade Cross Slope information the operator needs to quickly and easily spread or cut material at the correct cross slope. The operator can select which side of the blade to control automatically and swap direction on the return pass without readjusting the settings. Elevation is controlled manually by matching grade, or automatically by adding an elevation control device.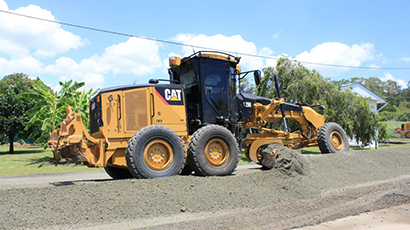 Blade Slope Angle Sensor
The blade slope angle sensor is mounted at the back of the circle. It is used to measure the slope of the blade.
Blade Rotation Sensor
The rotation sensor is mounted on the hydraulic hydra-valve swivel and measures circle rotation
Mainfall Sensor
The mainfall sensor is mounted to the machine frame or chassis. It measures pitch of the machine, which is used to calculate the cross slope. This is the same type of sensor used to measure blade slope angle.
Cross Slope System
AccuGrade Cross Slope can be combined with one or more of the AccuGrade elevation control technologies, such as AccuGrade Sonic, AccuGrade Laser, AccuGrade GPS, or AccuGrade UTS for automatic control of elevation and cross slope.
Cross Slope with Elevation Control
AccuGrade Cross Slope uses three machine-mounted sensors – a blade slope sensor, mainfall sensor, and rotation sensor – to calculate necessary blade adjustments to achieve desired cross slope of the surface perpendicular to the direction of travel.