Caterpillar is helping customers revolutionise the way they move dirt with new technology solutions for earthmoving machines. Solutions that provide greater accuracy, higher productivity, lower operating costs, and more profitability.
The AccuGrade™ Laser Grade Control System is a high technology earthmoving tool that allows dozer operators to grade and fill with increased accuracy without the use of traditional stakes or grade checkers. Using advanced laser technology, machine-mounted components and an off-board laser transmitter, this state-of-the-art machine control system provides precise elevation information on an in-cab display to achieve accurate blade positioning. As a result, operators can improve their efficiency and get to grade faster and in fewer passes than ever before.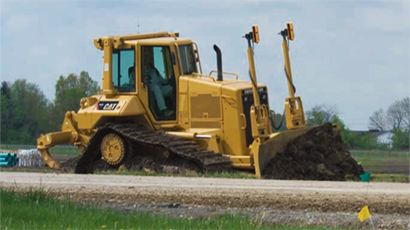 The AccuGrade System can significantly improve the productivity and accuracy of grading equipment – by as much as 50% over conventional methods. Used primarily for finishing grading, the system is easy to learn. With minimal training, even inexperienced operators are able to get up to speed in no time at all.
The AccuGrade Laser Grade Control System is designed for a wide range of construction earthwork applications requiring tight tolerances and high production rates. Laser grade control is so accurate in fact, that in many cases these systems are required in project specifications or by general contractors in the construction industry. Field-proven and versatile, the dual laser system is ideal for fine grading of sites with flat, single or dual slope surfaces, such as industrial, commercial and residential building sites.
Planar Applications
Must be flat, or have consistent slope(s)
Grading
Flatwork
Building Pads
Sports Fields
Airport Runways, Taxiways and Aprons
Parking Lots
Landfill construction, lifts and capping
Railroad Roadbeds
Roads and Highways with uniform slope
Agriculture Waterways
Agriculture Terraces
Ponds
Site Preparation
Commercial
Industrial
Residential
Users
Typical users of laser grade control systems include:
Excavating Contractors
General Contractors
Concrete Contractors
Railroad Contractors
Landfill Operators
Ag Contractors / Farmers
Mining Operators