Expanding Possibilities: Technologies that Span the Design-through-Construction Lifecycle
There's been considerable excitement and energy around machine control and autonomous operations in the construction space in recent years. And rightfully so – big machines that can grade a site to centimeter tolerances on the first go without operator assistance are worthy of celebration.
But what about the tools and techniques that go into winning and preparing for those machines to move? Sometimes forgotten in the thrill of the dig is the value of some of those familiar technology-enabled solutions to win jobs and set the stage for productivity, efficiency, and quality delivery.
In the following, we look at a few familiar technologies that are helping facilitate projects well before machines and materials arrive on a site.
A View from Above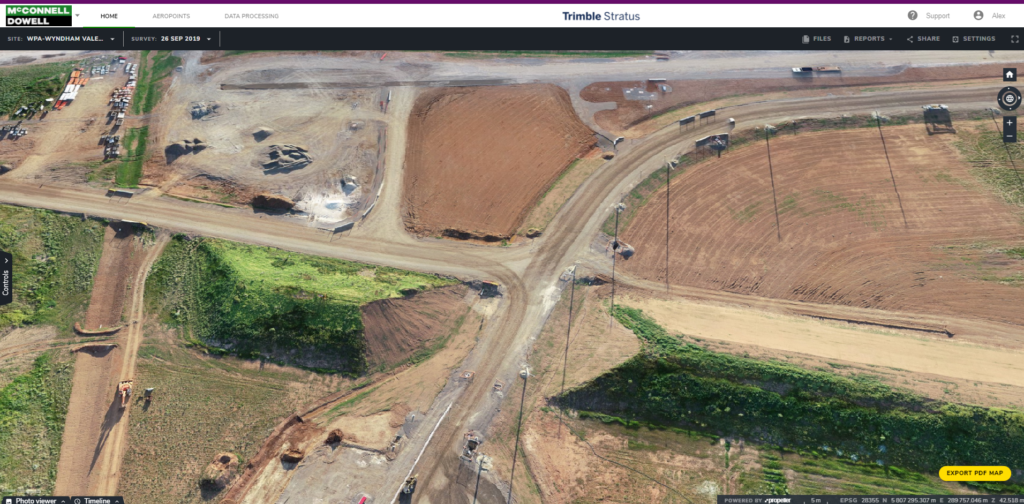 By now, almost every contractor has likely heard of or applied data captured by drones. In the last few years, these flying robots have become almost commonplace on earthwork projects around the world as a foundation for volume calculations and progress tracking.
For many, the speedy, accurate survey data also provides a tremendous preconstruction advantage.
Australian infrastructure contractor McConnell Dowell has built some of the most challenging roads, rails, dams, pipelines, marine assets, and other infrastructure in Australia, New Zealand, and Southern Asia. The company's latest endeavor is the Level Crossing Removal Program (LXRP), a multi-year program to oversee one of the largest rail infrastructure projects in Australia's history. As part of the Western Program Alliance (WPA), which also includes Arup, Mott MacDonald, and Metro Trains Melbourne, McConnell Dowell is charged with removing and renovating a set number of the crossings. To date, the alliance has completed six of the crossing projects and is currently working on another four.
"Just surveying the individual project sites was a challenge," said John Dyer, Engineering Manager with WPA. "Even the best surveyor in the world might only survey on five- or 10-meter grids, so we would only get a snapshot of that particular point or area, which then had to be interpolated on a 2D drawing. We needed a way to survey the whole site quickly to provide a timely resource for optimal collaboration and project management."
Wong says another advantage of Stratus is coordinating people, equipment, and materials for a job. "Material delivery planning can be a challenge on these sites. Recently, a subcontractor from Tasmania needed to deliver some very large steel piles for a bridge structure. Due to the pandemic, we were not able to get to the site," he said. "Trimble Stratus enabled our subcontractors to plan the safe delivery of these very large elements in a laydown area. Further, we provided the piling contractor access to the topo data of the site in question, and that team is able to pre-plan activities from material laydown to equipment locations, with full awareness of site restrictions."
McConnell Dowell put Trimble Stratus, powered by Propeller, to work for them. For Alex Wong, Senior Digital Engineer at McConnell Dowell, the Trimble Stratus platform has become an essential tool in the pre-planning phases of the project. "Quite often during the tender period, we have people with different ideas of how things work," he said. "With the 3D aerial data, that discussion becomes much more focused and everyone is better prepared for the next phase."
Satellite Connections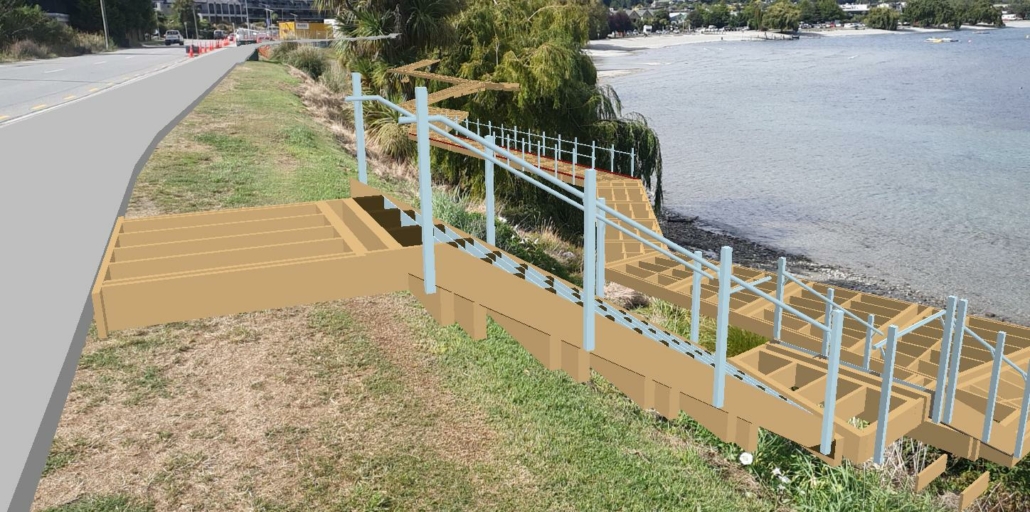 Integral to everything from watches to automated wheel loaders, GNSS is certainly a familiar technology. But even the application of this now-common navigation solution continues to expand, especially for pre-construction applications.
The capability came in particularly handy for the multi-year $3.7 million Wanaka Lakefront Development Plan, initiated by the Queenstown Lakes District Council and Wanaka Community Board. Key objectives of the plan are to restore and develop native vegetation to maintain the lakefront's rugged, wild landscape, improve and expand a shared pathway for pedestrians and cyclists, and the construction of a lakeside boardwalk.
The modernisation includes the restoration of 300m long native revegetation of lake edge as well as vegetation along a steep bank, the construction of a 3m wide shared path alongside Lakeside Road, and a 2m wide boardwalk along the lake edge with connections to the existing pathway network as well as an 80m of timber and concrete retaining wall.
For Blakely Construction, a Rolleston, New Zealand-based civil contractor, the project was an exciting opportunity to demonstrate technology-enabled benefits both before and after construction started.
The project is about a five-hour drive from Blakely's headquarters, which could create some logistical and communication challenges.
Mathew Havill, General Manager for Blakely Construction, and his team took advantage of Trimble SiteVision, a new, outdoor augmented reality (AR) system purchased from SITECH New Zealand, originally purchased to support project progress. SiteVision is purpose-built to help project teams communicate design adjustments to field crews, conduct inspections, track progress and make quick survey measurements.
"Initially, I wanted SiteVision mostly because I thought it would help bring our clients on the journey with us as we built projects," Havill explained. "We found it could do so much more."
Key to Havill's decision to use the augmented reality system was access to a 3D model of the boardwalk.
"As contractors, we're very good at envisioning how projects come together, but that's sometimes difficult to portray to clients and the community in a visual way," said Havill. "With SiteVision's AR capabilities, we were able to draw them more into the process by providing clear visuals about how each piece of the project would come together, including, in this case, the interaction between hardscape and vegetation."
It also allowed the Blakely project team to highlight areas of potential concern so that decisions could be made in advance. In one instance, the technology was used to assess potential concerns during early site assessments. The Lake Wanaka boardwalk runs along the shoreline with a vertical bank in some areas with a lot of existing vegetation.
He continued, "We knew there were concerns about the local ecology, but we were able to show the client and community how that vegetation interacted with the boardwalk—and more importantly, get clarification about removal. SiteVision allows us to communicate those areas that need more detail with clarity."
Robotic Rewards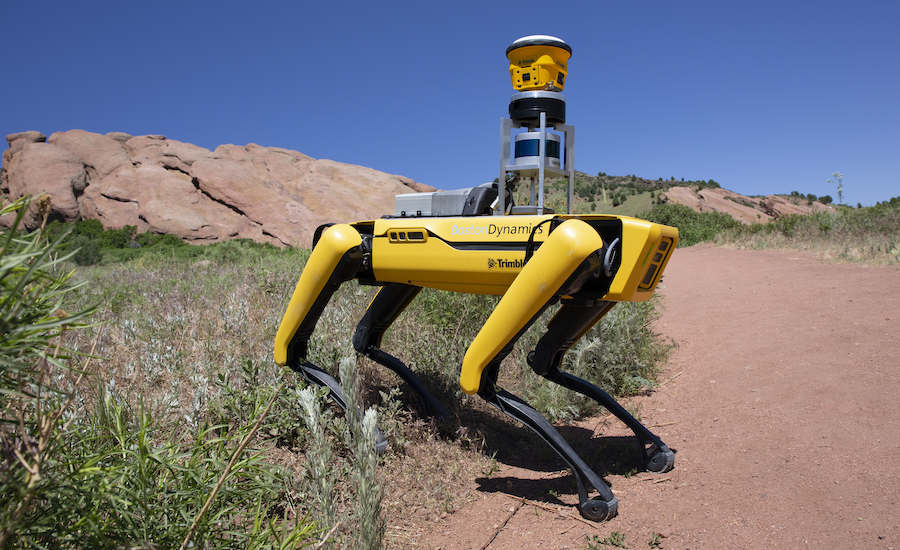 One of the challenges in the estimating, bidding, and pre-construction phases of a project is often the limited ground-based infrastructure like base stations, radio, or internet connectivity necessary to survey and develop estimates for materials, labor, and machines. The most common survey approach would be to use RTK, but that requires a fixed base station to acquire correction data.
But what if ground access is not readily available? That's where a GNSS solution such as Trimble RTX comes into play. RTX is a family of real-time GNSS positioning services available via IP/cellular or satellite delivery worldwide. The services utilize real-time satellite measurements from a global network of tracking stations, along with highly accurate atmospheric models and algorithms to generate Trimble RTX corrections. These corrections are then broadcast to the receiver via a set of geostationary satellites or over the Internet, which the receiver uses to improve the accuracy of its GNSS positions.
While stand-alone GNSS positioning without corrections provides horizontal accuracies that are typically more than one meter, Trimble RTX correction services can provide horizontal accuracies better than two centimeters—ideal for pre-construction activities.
Imagine the possibilities of an RTX-enabled ground-based survey solution such as Boston Dynamics' Spot the robot dog as a pre-construction tool for gathering as-built conditions inside or out?
As contractors continue to expand their high-tech toolboxes, keep in mind that many of the systems and solutions used to drive project productivity can also better prepare your crews for success before ever putting blade to dirt.
https://sitechcs.com/wp-content/uploads/2022/06/Logo_SITECH_b-300x113.png
0
0
SITECH
https://sitechcs.com/wp-content/uploads/2022/06/Logo_SITECH_b-300x113.png
SITECH
2021-10-20 10:30:41
2021-10-20 10:35:36
Expanding Possibilities: Technologies that Span the Design-through-Construction Lifecycle