THE NO COMMITMENT SOLUTION
Get what you need, when you need it. Take advantage of our rental programs to dip your toes – you'll get the job done right and you'll experience the benefits of the newest state of the art technology, while you take your time to make the final decision. During your rental period, if you realise that you don't want to give up the value you have just discovered, there's an answer for you, our convenient rental conversion.
SITECH Construction Systems programs are a great way to make up your mind, based on your own real-life results.
There are a couple of possible scenarios – either you already own "Trimble-Ready" or "ACCUGRADE-Ready" machines, or you don't. And you'll ask, what's Trimble-Ready and ACCUGRADE-Ready equipment, anyway? The quick answer is, these are basically machines that have been pre-configured by the manufacturer and do not need additional welding or drilling in order to have Trimble or AccuGrade gear installed.  See Trimble-Ready or ACCUGRADE-Ready.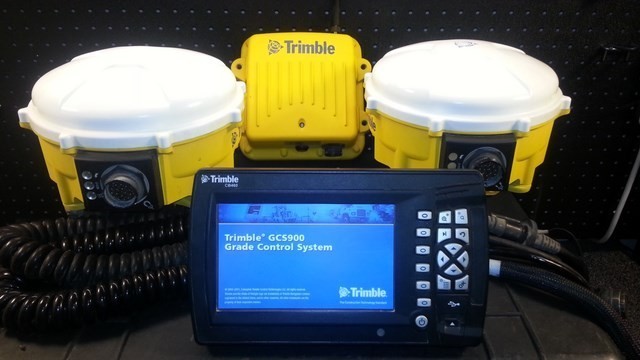 If you already own Trimble-Ready or ACCUGRADE-Ready equipment, you can rent the machine automation / guidance components that fit your needs from us, and we can install it.
If your equipment is not Trimble-Ready or ACCUGRADE-Ready, you can rent the Trimble-Ready or ACCUGRADE-Ready equipment from your local Cat dealer or from your equipment dealer, and rent the machine automation / guidance components from us. We will configure it to your machine to start the rental.
If you need to rent a GPS base station or rover, or have a need for more precise positioning from a robotic total station (UTS) we have these rental solutions and the technical staff to get you up and running.
Your best bet? Talk to your SITECH rep.  They are experts at assessing your situation, and helping you make the decision that fits your goals, your time frame and your budget.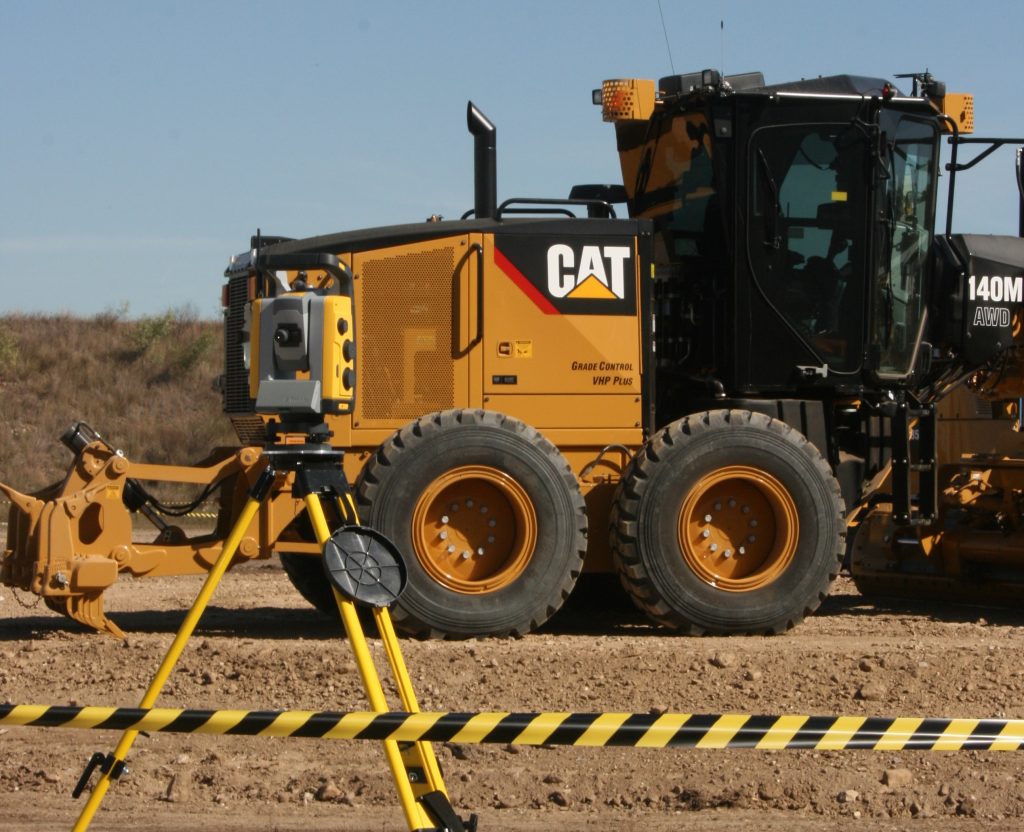 Our Rental Program offers you a cost-effective opportunity to confirm the competitive advantages of Machine Control technologies for your business.
We have a complete range of Trimble products for hire to complete any job.
We offer:
The latest equipment
Competitive rates
Superior service
Ongoing support
Flexible terms
We can:
Provide you with the latest Trimble technologies
Install and uninstall your equipment
Provide Trimble Certified training
To talk to us about your rental options, contact your local branch.
All our equipment is serviced by our qualified technicians and all equipment runs the latest software,
giving you the reliability you need on the job site.
Site Positioning Systems
Operating as an integral part of today's construction jobsite technology, Trimble Site Positioning Systems are designed to provide contractors with state-of-the-art construction positioning solutions. Trimble SPS provides the non-surveyor in site preparation, heavy / highway, mining, landfill and waste disposal the ability to quickly resolve problems on site and the flexibility to complete any task. Contractors can track, report, validate and control workflows from receipt of initial designs to project completion. Available as either GPS or Robotic Total Station solutions, SPS systems can be combined with the Trimble SCS900 Site Controller Software developed specifically for construction applications.
SCS900 Site Controller Software
The SCS900 software is designed to be simple to use and learn, so training time is minimal.
It's ideal for using GNSS to measure points, check grade and navigate to points of interest, and is optimised for construction site workflows
Base and Rover Systems
GPS Rover
The Trimble SPS GPS Receiver is the simple solution to all your site measurement and stakeout applications. The SPS GPS Receiver can be used as either a rover for site measurement and stakeout, or as a base station for site measurement and machine control operations.
Essentials Kit
The Trimble® Site Positioning Systems Essentials Kit is an easy-to-use positioning system designed for grade checkers, site engineers, small site contractors, owner operators or contractors who are new to GNSS technology.
The Essentials Kit includes:
an entry-level version of Trimble SCS900 Site Controller
Software running on Trimble Site Mobile controller
Trimble SPS985L GNSS Smart Antenna or Trimble SPS585 GNSS Smart Antenna
Supervisor Systems
The Trimble® vehicle mounted GPS system, comprising of a Trimble site tablet with SCS900 software and the SPS9685 provide site supervisors and foremen a real-time view of earthworks operations.
GPS Base Station
The Trimble SPS GPS Base Station combines a GPS receiver and radio into a compact and rugged housing. This design allows contractors to secure the majority of their investment inside a site trailer or carrying case and is ideal for semi-permanent or permanent setups and construction rover applications.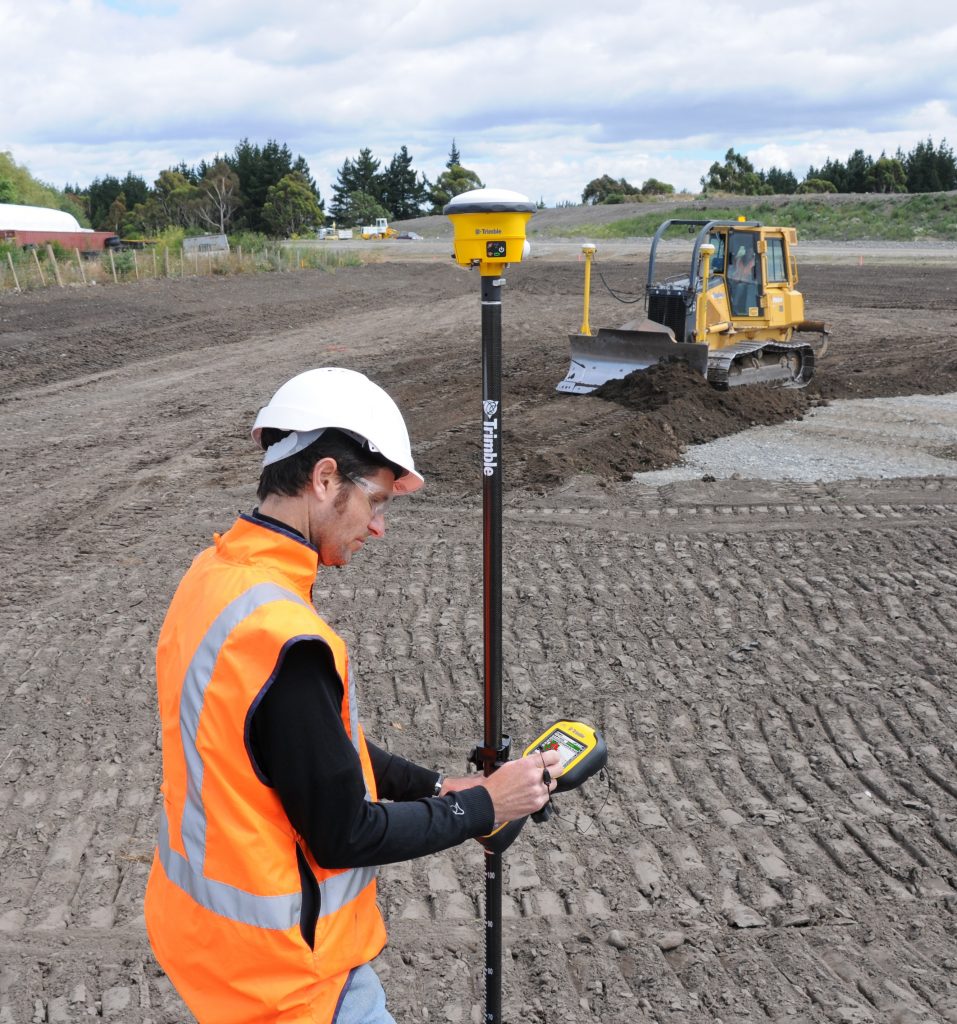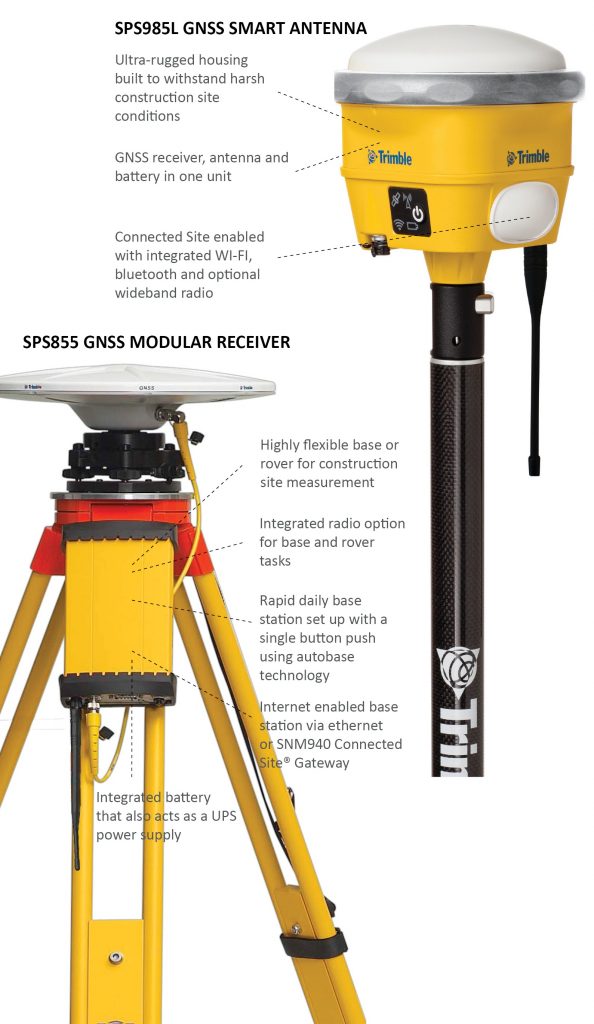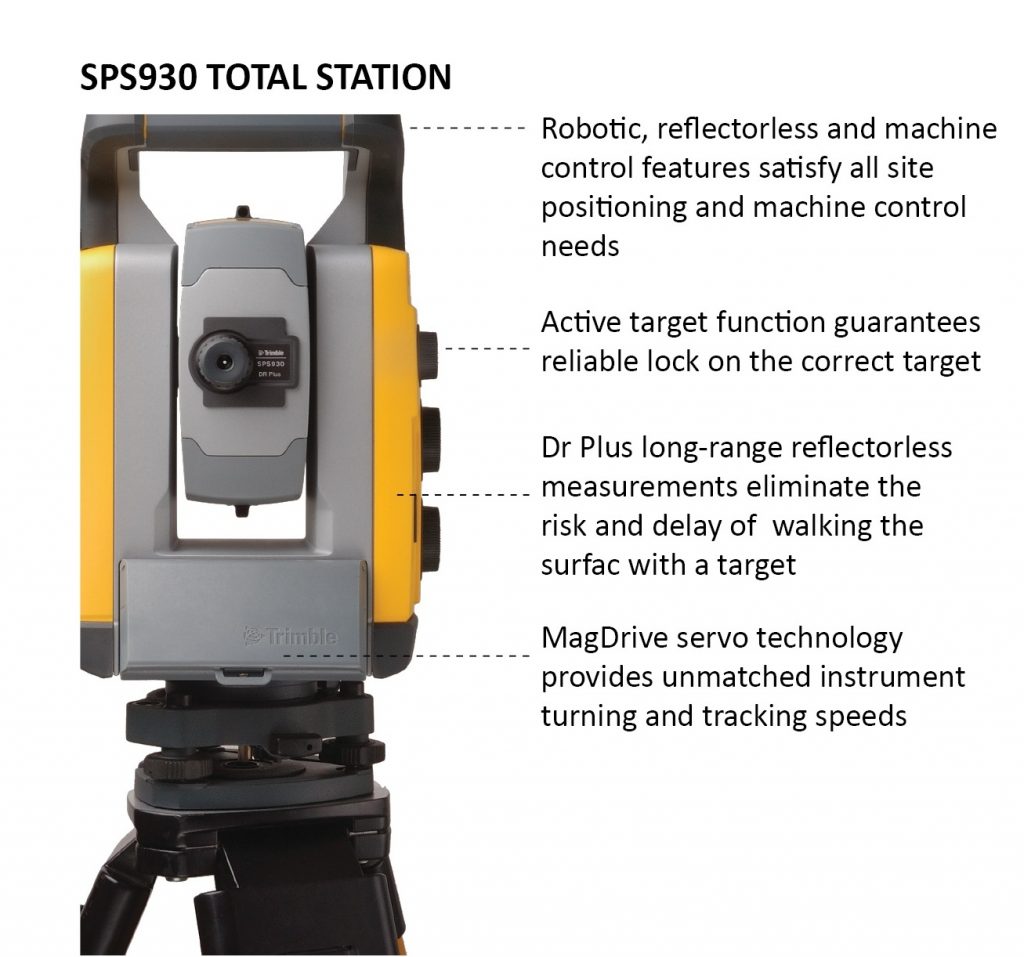 Universal Total Station
The Trimble SPS Total Stations were designed specifically for the high traffic scenarios typically found on a construction site. The SPS Total Stations are useful for a wide variety of applications, from stakeout and site measurement, to Robotic Machine Control.
GNSS Smart Antennas
The SPS985 is a rugged, accurate GNSS rover designed for the construction site with the high quality you've come to expect from Trimble. For accurate construction site measurement, the SPS985 includes an integrated wideband radio for receiving corrections.
The SPS855 is a rugged, modular receiver used where a permenant base installation is required.  Coupled with a high powered radio, these solutions provide GPS corrections for larger sites.
The SPS585 is a lightweight and portable network rover, ideal for use with VRS, IBSS or CenterPoint RTX corrections.
Data Collectors
Site Mobile
Combining a camera, a controller and a smartphone into one lightweight device, the Site Mobile is so easy-to-use, inexperienced employees can begin using the system for simple positioning tasks in less than an hour. Now anyone on the construction site can be equipped with accurate positioning and digital designs, saving you time, money and rework.
Trimble TSC3 Controller
The Trimble TSC3 controller is designed to operate with all Trimble Site Positioning Systems, including the SPS985 GNSS Smart Antenna, SPS855 GNSS Modular Receiver, and SPS series total stations. The TSC3 is the contractor's new information hub.
Trimble Site Tablet
The Trimble Site Tablet is a windows based PC running SCS900. Its particularly large screen format provides visibility in full sun, allowing for complex designs to be easily displayed and utilised.