High school build completed 50% faster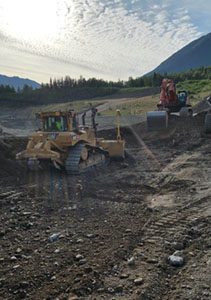 Big Dipper Construction Inc, is an excavation company based in Alaska. As the company has grown they have moved from site development work for residential properties to larger-scale commercial projects.
In early 2015, Big Dipper Construction won a bid to build a local high school. The scope of work involved everything prior to paving and concrete work. This included clearing 26 acres of land, moving 300,000 cubic yards of dirt, site prep before setting the footings, and grading. The company also won the bid to run all of the underground utilities outside the building, as well as excavation for the interior utilities and electrical. Looking to increase productivity for this type of job, the company turned to Accupoint, their Trimble Authorized Dealer.
"The high school project gave us a great opportunity to really jump all in with GPS and machine control, and while our guys were a little hesitant at first, after a few days they really got into using GPS," said Corey Gensemer superintendent for Big Dipper Construction. "We set up our job sites by putting the model to the finish grade, then the operators know their sections just by selecting the correct job on the control box; that way there's no confusion each day about the work ahead. And when things change, we just go in and make an update to the design file and the guys could see it directly."
For the project, the Big Dipper Construction moved close to 10,000 cubic yards of dirt per day. The team excavated the 26-acre school site in just two months, which the team estimates was 50% faster than using traditional methods.
"With Trimble GPS, laser, and 3D capabilities we are showing that we can successfully manage large projects and still cut our time to completion by at least 25 to 50%, which makes us much more cost effective and competitive," said Corey.
0
0
SITECH
https://sitechcs.com/wp-content/uploads/2022/06/Logo_SITECH_b-300x113.png
SITECH
2016-05-04 10:22:34
2018-10-16 09:33:30
High school build completed 50% faster